OK, so you're a progressive hand-wringing "liberal" and the political mood of the USA has not been going your way for the last 25 years - but really, aren't these alternate reality TV shows even more depressing than the GOP reality. You realize that the TV studios are making these programs for you, right? The model is Martin Sheen as President Josiah "Jed" Bartlet - the self righteous moralizer who inhabits the "West Wing" of the people's White House. Jed is the antidote to the dark reality so brilliantly portrayed in the British film titled "Love Actually" where the PM (Hugh Grant...no, I'm not kidding) puts the US President (Billy Bob Thornton...and, no, I'm not kidding about that either) in his proper place with this brilliant bit of dialog:
Press Conference Reporter:
Mr. President, has it been a good visit?
The President:
Very satisfactory indeed. We got what we came for and our special relationship is still very special.
Press Conference Reporter:
Prime Minister?
Prime Minister:
I love that word "relationship". Covers all manner of sins, doesn't it? I fear that this has become a bad relationship. A relationship based on the President taking exactly what he wants and casually ignoring all those things that really matter to, erm... Britain. We may be a small country but we're a great one, too. The country of Shakespeare, Churchill, the Beatles, Sean Connery, Harry Potter. David Beckham's right foot. David Beckham's left foot, come to that. And a friend who bullies us is no longer a friend. And since bullies only respond to strength, from now onward, I will be prepared to be much stronger. And the President should be prepared for that.
How pathetic! Home of Shakespeare, Churchill and HARRY POTTER!!!! Good God, who writes this shit? How could you commit it to celluloid? Who pays to have this stuff written, acted, shot and distributed? Hey, who cares? - I would never know anything about this movie or the scene above except for cable TV which allows me to see bits and pieces of movies that I would never in a million years pay money to see in a theater or even on video. One day I had the displeasure of seeing this scene and I could only think of the smug enlightened mind nodding his or her head up and down in solemn agreement with Hugh Grant's comments.
And now we have Geena Davis as President Mackenzie Allen on the ABC Television Network's "Commander In Chief". The premise of this alternate reality is that some crazy assed woman gets put on the presidential ticket as a ploy to pick up the female vote and guess what - she becomes President of the United States. Then she starts ordering all the bureaucrats in the government around and turns the world upside down to implement a "progressive" agenda.
Keep watching the fake Presidents friends, meanwhile GWB, Bill Frist, Denny Hastert and John Roberts will keep running the real world.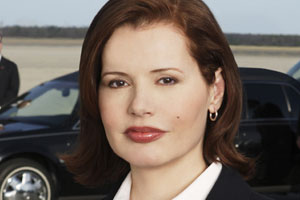 Who elected this bitch?